Well here it is. My new button for the Sisterhood of the Shrinking Jeans. I was told that this would be a good time to join because a new challenge starts today and I think this challenge is absolutely perfect for me. It's about establishing three healthy habits. Since a habit is supposed to be born in 21 days, the theory is that all we have to do is stick to our commitment to do these three healthy things for that length of time and viola - three good habits will be born.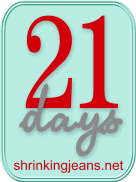 I started Weight Watchers (again) on the 19th. Right now I weigh 6.4 lbs less than I did then. I know I can do this because I've done it before but what I can't seem to do is make it a way of life so my three habits are going to deal with that challenge.

Before on Weight Watchers, I would dedicate myself to finding the largest volume of food possible with the fewest number of points. This involved all kinds of creativity and exploration. And when you find 'no point bread' and no point cold cuts, you eat as much of it as you can so that you don't suffer too much.

Now I'm finally realizing that eating like this cannot be a way of life -at least not for me. I want to eat foods that I enjoy and feel satisfied after eating - I just want to eat less of them.

So my first new, good habit will be to eat the same foods I've always eaten - just less of them while keeping careful track of the points.

My next goal will be to get at least 30 minutes of exercise every single day. For a person, who less than a year ago, walked 6 hours every day, 30 minutes should not be a big deal; but, since I've let exercise become a thing of the past I'm going to start with a goal of exercising AT LEAST 30 minutes a day.

Now for the hardest habit of all for me to establish. I'm going to get more sleep. I like to get up every morning and get Mr. Right's lunch together but to do that, I have to be moving at 6:30. Since we never, EVER go to bed before 12:30, and usually it's later, I'm tired and dragged out all day. And when I'm tired and dragged out, I don't feel like exercising and I start getting fidgety about food and nibbling and suffering. I honestly believe that my body is insisting that I eat something to compensate for how tired I am.

So my new, good habit number three is to be in bed by midnight every night. If I can do that for 21 days and I still feel tired, I'll back bedtime up another 15 minutes. And I'll keep doing that until I've got it right.

Okay, so there you have it. My trinity of weight-loss tools: count the points in the normal food that I eat, exercise 30 minutes a day, and get enough sleep so that I will have the will power to do the first two.

I'm excited to join shrinking jeans. I read the posts of lots of present members and I'm always inspired. Now maybe by not lurking and by joining in, I can be an inspiration too some day.