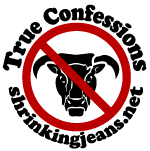 I have so many weight loss sabotaging sins to confess that I wouldn't even know where to begin. So I'll focus on one. And the sin here concerning my weaknesses and failures to resist are residual effects of the big one. The large sin. The sin against my sisters and fellow team members. It is that I have failed to appreciate the challenges that others face on a daily basis and that I don't have to worry about.
This week I have grandchildren staying with me. The joy! The fun! The amusement! But oh, the temptations. Grandchildren must have ice cream cones. The have to get root beer floats. Their lunches have to be fun and delicious - hot dogs dipped in catsup, macaroni and (oh so much) cheese! Lasagna for dinner with moist buttery garlicy toast on the side. Ummmmmm. And to think that people might be expected to serve all these things without partaking. Ridiculous.
Of course when I partook, I enjoyed very modest portions but even modest portions of these fat filled foods are weight loss krptonite. And I'm pretty uneasy about my performance for our team weigh in tomorrow.
Maybe if I had appreciated what most of the sisterhood is up against on a daily basis, I would have been prepared. But I didn't and I wasn't. And I partook, enjoyed, and gained a little weight which I wouldn't worry about except that I'm supposed to be losing.
So there is one disadvantage to having the grandchildren stay for a few days. While I'm indulging them, I also indulge myself.
So if I've gained some weight this week, and I have, I have no one to blame but ...... these guys right here:
The group that is currently entertaining in the living room with rock band enthusiasm. When we went outside, they were going to be the Rock Heads (lol) but then they got distracted by all the ants on the ground and, last I heard, were leaning toward the Ant Killers (lol some more).
How great that I get to have them here to entertain me and to blame my weight problems on. Life is good.