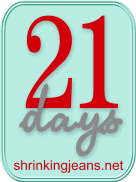 After one week I'm happy to say that I've:
Gotten 6 1/2 hours sleep every night except last night when Mr. Right didn't get home from work until 11:30 and I had an early morning dentist appt.
Exercised at least 1/2 hour every day which means more like 35 to 40 minutes because I always walk 2 miles. The difference at the end of the week is that I'm walking
AS FAST AS I CAN
! and that's a whole different ballgame than just
walking
2 miles. When I'm done I feel like I've really done something. With perseverance I hope to be jogging and then running soon.
And most importantly, I've consistently eaten regular food, only less of it, and continued to count my points. Boy, I hit a really rough spot at the end of last week when for some reason I started binging on spaghetti. And I kept it up until all my leftover spaghetti was gone. But, because of the Sisterhood, I sucked it up and did my best to honestly tally and record the points that I had consumed. Although it was really bad, it was reassuring to see that all was not lost. I was only 3 1/2 points over for the week and since last Wednesday at this time, I've lost 1.6 lbs.
I want to say thank you to the Sisterhood for keeping me on track. Without it's help and the new habits that I'm trying to be accountable for, I would have fallen off the wagon in about 3 different ways last week.
I'm going into next week with my new habits and resolve to continue intact!